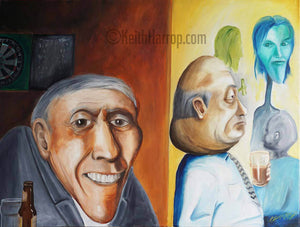 I really enjoyed painting this one. I'd recently finished 'Horse heads' which was my old local pub 'The Marquis of Granby'.
So I thought this time I would paint my other local: 'The Greyhound' 
So you would always find sitting at a table, an old man, who'd been there forever. Like furniture that could talk. Trends, fashions and music change, but he just sits there chatting to everyone. You are happy to spend a few moments sitting with him. It's comforting.

But you still have one eye wandering around and behind him, just in case you miss something else.
Available as:

Original: 30" X 40" Oil on canvas. No frame - 650.00
Fine art paper print (Signed) 8" x 11"  - $29.00
Fine art paper print (Signed) 10" x 14" - $39.00

Watermark will not be printed on image

FREE shipping within USA

All reproduction prints are scanned and printed using gallery standard, professional equipment and materials. Ensuring the highest quality.