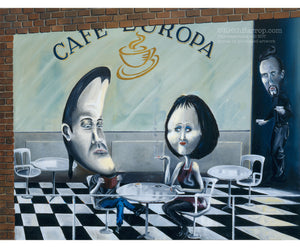 This is the companion painting to 'When Worlds Collide, Part 1". This Santa Barbara coffee shop was next door to the old pizza place in WWC Pt 1. The two paintings follow in perspective when hung next to each other.
They show the old past of Santa Barbara, and any small city facing growing pains. Placed together, the eyes of the characters in each piece are staring at each other in an uneasy recognition of changing ways.
The two people in this piece just met. It is one of a four part series, showing the relationship between these two characters. Ending ultimately in their break up and his subsequent regret.
The couple are also also featured in:
Prequel 
Again, never again
All my yesterdays

Available as:

Original: SOLD

Fine art paper print (Signed): 8" x 11"  $30.00

Fine art paper print (Signed): 11.5" x 14" - $49.00

Canvas print (signed): 11" x 14" x 3/4"  $59.00

Canvas print (signed): 18" x 24" x 3/4"  $99.00


FREE shipping within USA
Watermark will not be printed on image

FREE shipping within USA

All reproduction prints are scanned and printed using gallery standard, professional equipment and materials. Ensuring the highest quality.